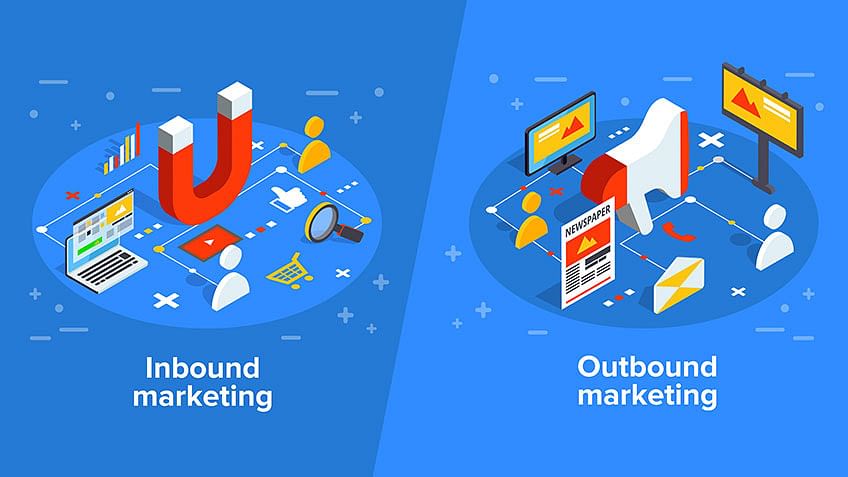 | | |
| --- | --- |
| Inbound Marketing | Outbound Marketing |
| Informative digital content, targeted at specific audiences and written to help solve consumers' problems.Content comes in interactive forms, such as social media posts, blogs, reports, webinars, etc.Messaging is tailored to specific consumers.All-encompassing strategy across multiple channels.Measurable through digital marketing software. | Non-digital content, designed to capture consumers' attention and written to sell products.Content is displayed in direct mail, magazine ads, billboards, on TV, etc. and is meant to be passive.Messaging must stand out among millions of other ads consumers see each day.Linear strategy with limited channels.Difficult to measure attribution from physical advertising. |
Sometimes, you can see one brand promoting another brand's goods or services in banner ads on websites, posts on social media, mentions in articles and videos, recommendations in email newsletters, and more. You have probably asked yourself why companies do this.
Brands that have common interests and audiences that don't compete with each other can cooperate for mutual benefit. According to Partnerize's research, 54% of companies mentioned that partnerships drive more than 20% of total company revenue.
Cross-promotion is a convenient and profitable way to promote products. Because it is quick and effective, cross-promotion became especially popular during the financial crisis. If a partnership is built right, it can help double your audience. During this collaboration, companies exchange knowledge and ideas, give advice, and mention each other in articles on their websites, social media pages, and in emails, all while developing their promotional programs.